Your brand is more than what is on your blog, it's the look and feel of everything you produce and put out into the world.
When people stumble upon your blog, they aren't only reading what you have to say, they are also noting your designs, fonts, colors, layout, and all the other elements that form your brand aesthetic.
Your visual brand can either give you credibility the instant a viewer checks out your blog or lessen your credibility because it's poorly designed. While having amazing content should be your top priority, your visuals must back it up.
It's like going to a job interview with an incredible resume but not taking the time to present yourself in the best way by dressing appropriately, brushing your teeth, and combing your hair.
So, here are the 6 vital elements to brainstorming and designing your brand aesthetic that will give your blog authority and help you give a stellar first impression:
1. Color Palette
Color has the POWER to convey and communicate meanings and messages without words, therefore it's important to do a little research on the psychology of colors to make sure you're creating a brand that conveys how you'd like to come across.
When deciding on your colors ask yourself:
What FEELING do you want to convey?
What WORDS represent your brand's personality?
What COLORS represent those words?
What colors do similar blogs in your NICHE use? And how can you stand out?
Red – For Danger, Passion, Excitement, Energy
Because red has such powerful meanings and is such a powerful color, use it with discretion. However, if other brands are avoiding red, it may be a great way to stand out from the crowd. There are a lot of shades of red, each tells a different story, choose one that best represents you.
Light red represents joy, sexuality, passion, sensitivity, and love.
Dark red is associated with vigor, willpower, rage, anger, leadership, courage, longing, malice, and wrath.
Reddish-brown is associated with harvest and fall.
Orange – Fresh, Youthful, Creative, Adventurous
Because orange is associated with fun and vibrancy, it works well for youthful, energetic brands and should be avoided by luxury, traditional or serious brands. Orange has very high visibility and is not as aggressive as red which could be good depending on your brand.
Dark orange can mean deceit and distrust. How many brands do you see with this color… not too many!!!
Red-orange corresponds to desire, sexual passion, pleasure, domination, aggression, and thirst for action.
Gold evokes the feeling of prestige. The meaning of gold is illumination, wisdom, and wealth. Gold often symbolizes high quality.
Yellow – Optimistic, Cheerful, Playful, Happy
Yellow is an unstable and spontaneous color, so avoid using yellow if you want to suggest stability and safety. Yellow is usually paired with black in warning signs. Some shades of yellow can look cheap – although this may suit your brand image if you're talking about discounts or money-saving tricks, however, it's a hard color to brand with because it can be hard to see! Choose your shade carefully.
Dull (dingy) yellow represents caution, decay, sickness, and jealousy.
Light yellow is associated with intellect, freshness, and joy.
Green – Natural, Vitality, Prestige, Wealth
Green has great healing power. It is the most restful color for the human eye and suggests stability and endurance.
Yellow-green can indicate sickness, cowardice, discord, and jealousy, but can also be edgy, artsy and daring.
Aqua is associated with emotional healing and protection.
Olive green is the traditional color of peace.
Dark green is associated with ambition, greed, and jealousy, but also tranquility, nature, and slumber.
Blue – Communicative, Trustworthy, Calming, Depressed
Blue runs the gamut from corporate and dependable, to calming and tranquil, to feeling down in the dumps. However, in general, blue is considered beneficial to the mind and body as it supposedly slows human metabolism and produces a calming effect.
Light blue is associated with health, healing, tranquility, understanding, and softness.
Dark blue represents knowledge, power, integrity, and seriousness.
Purple – Royalty, Majesty, Spiritual, Mysterious
Purple is best used for targeting female audiences, while women list purple as a top-tier color, it doesn't even rank for men. Purple combines the stability of blue and the energy of red. It conveys wealth and extravagance.
Light purple evokes romantic and nostalgic feelings.
Dark purple evokes royalty and desire.
Brown – Organic, Wholesome, Simple, Honest
Use caution with brown as it can remind people of dirt. Simply put, brown is a natural color. And it's because of this natural presence in nature, the color brown is quickly associated with all things organic. Brown is seen as being stable, reliable, and approachable—perhaps because of its earthy quality.
Light (tan) Brown suggests stability and denotes masculine qualities.
Dark Brown signifies home, grounding, foundations, stability, and warmth.
Pink – Feminine, Sentimental, Romantic, Exciting
Identify the mood and feeling you want to muster and choose your pink accordingly. Don't shy away from using pink for genderless brands (like T-Mobile does) as you may be targeting personality rather than demographics.
Light Pink signifies romance, love, and friendship and represents the carefree days of childhood.
Bright Pink such as fuchsia or magenta are vibrant, youthful, and encourage a sense of confidence.
Dark Pinks are friendly and denote feminine qualities and passiveness.
Black – Sophisticated, Formal, Luxurious, Sorrowful
Black gives the feeling of perspective and depth, but a black background diminishes readability. Black is associated with power, elegance, formality, death, evil, and mystery. Combined with red or orange – other very powerful colors – black gives a very aggressive color scheme.
Gray is an emotionless, moody color that is typically associated with meanings of dull, dirty, and dingy, but also as formal, conservative, and sophisticated. Gray is a timeless and practical color and great for balancing colors.
White – Purity, Simplicity, Innocence, Minimalism
White is associated with coolness and cleanliness. You can use white to suggest simplicity in high-tech products. White is often used by designers to convey a minimalist aesthetic and clean, modern quality. However, it is difficult to inject personality into your brand when using white.
Multicolor – Variety
More colors = more money when it comes to printing so consider your budget (although this won't matter if you're dealing online only). Pay attention to how your choice of colors work together to ensure they don't visually clash. Your preferred colors are lovely, but they don't always belong on your palette.
HOW TO PUT YOUR COLORS TOGETHER
Start with one color – that will be your main color.
Then choose two shades that will help accentuate it.
Use coolors.co to help you find the best shades and hues that complement each other.
I wouldn't suggest going over three colors (unless your color scheme is rainbow).
95% of tops brands use one or two colors, 5% use more than two colors.
2. Photographs
Images are extremely important.
They should enhance the readers' experience and prelude what the text is about.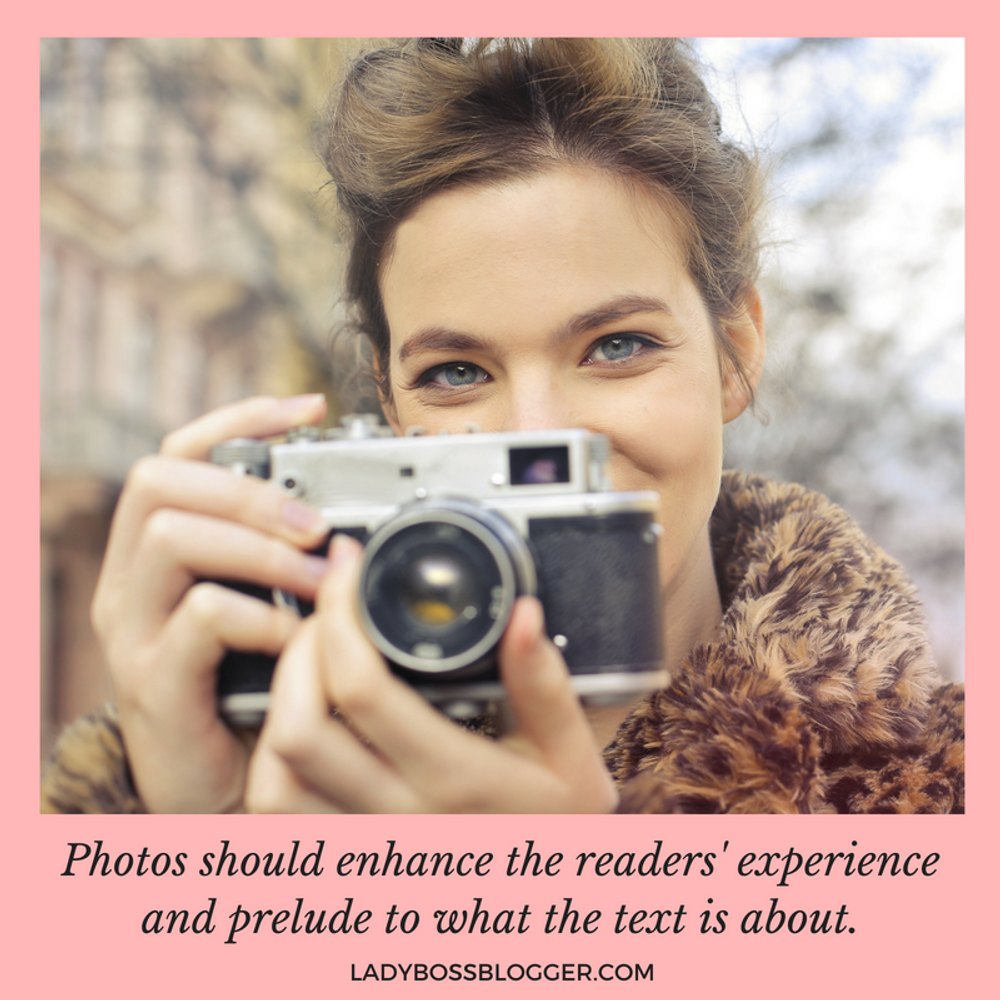 Make sure to take high-quality photos for your blog posts OR select royalty-free images from one of the free sites below.
The first thing that will entice a reader to click on your post is the headline but the second thing is the images that you decide to include in your post.
If your content is amazing and your images are poor, that will reflect negatively on your post, it's better to not have images at all versus having some that take too long to load and ruin your post.
However, posts with carefully selected images perform 5x better than those without. So be sure to publish images carefully, keeping your brand aesthetic goals in mind!
Also, don't hesitate to create your own designs like the photo above! I downloaded the photo from pexels.com, inserted it into canva.com (a free graphic design tool website and app), and created a new graphics specific to this article!
The benefit of creating your own images is that you can "brand them" with your domain name so whenever people save your images or share your post on other social media sites, the people who see it will know where it came from.
I highly recommend that you brand every single one of the images that you put on your blog.
3. Fonts
With dozens of stunning fonts, it can be hard to choose one. As you create your brand aesthetic, make sure your typeface falls in line with your niche and how you want your brand to be perceived.
It's good to have two main fonts that you use for everything. Be sure they look good together. It's always best to have two types of fonts together. Here is a chart to help you get started.
Script – cursive, calligraphic
Sherif – a small line attached to the end of a stroke in a letter
Sans Serif – doesn't include that small line
Caps – CAPITALIZED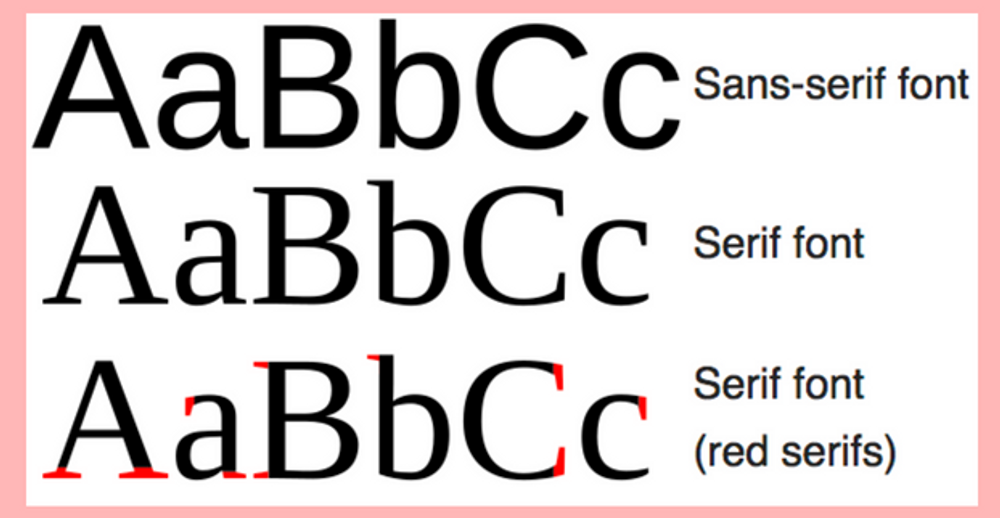 It's visually appealing to pair bolder fonts with thinner fonts.
If you want to pair two similar font styles together, such as the script example below (#3), consider using one in all caps to help differentiate the two – making sure that one is serif and the other sans serif.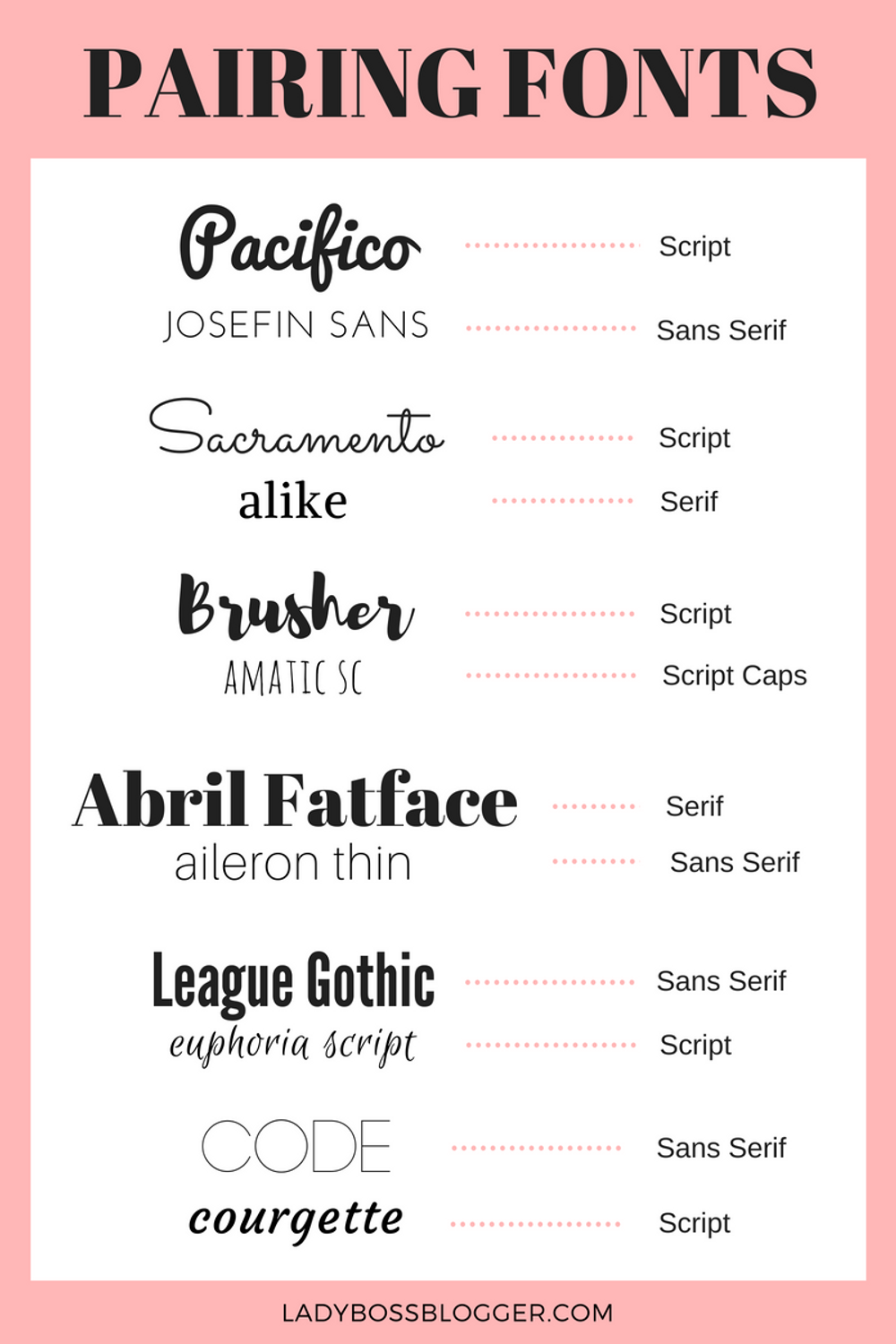 4. Plugins
Plugins are bits of software bundled up into a package (called a plugin) that can be uploaded to your blog to expand the functionality of your WordPress site. Most of them are customizable in color so you can change them to represent your brand colors.
For example, blogs don't usually come with social media sharing bars like the one below. The plugin you need to download is called Social Warfare. I have the paid version of it (Social Warefare PRO) which allows me to customize it to my brand.

This is one of the most important plugins to download on your site. You want to make it as easy as possible for readers to share your posts on their preferred channel and this is the way to do it!
5. Voice and Bio
Although these can be easily forgotten, they are essential in creating a brand's aesthetic that is undeniably bold, individual, and you.
A bio can be a place to humbly but confidently share prior work experience and credentials. Readers want to know what qualifies you and why they should listen.
If you don't have experience and simply wanted to start a blog, you can write about yourself, your interests, and what prompted you to create the blog.
Likewise, a well-defined voice in your blog posts will allow your readers to get to know you and allow them to build a relationship with you. Consistency matters and if you keep writing with authenticity and honesty, you will demonstrate to your readers that they can trust you to habitually create great content.
Although this may not be a part of your brand's aesthetics per se, it's an incredibly important aspect of branding your blog.
6. Theme
It's good to have your colors, type, and images, but how do you tie it all together?
Your WordPress theme!
There are free themes that come in WordPress, then there are ones you pay for. The reason you may want to pay for one that is well designed, such as Divi, is because they are SEO compatible which will help your site run faster and rank in Google quicker too!
But back to branding, your theme should complement the content of your website and also improve its readability. Here are a few things to look out for when you officially choose a theme for your blog in section 8.
Strive for simplicity
Must be mobile friendly
Compatible for multi-browsers
Easily customizable with plugins
SEO friendly
Not only should your theme be beautiful, but it is also the base to an extremely functional and practical site.
Now it's time to use the 6 techniques you just learned to build the aesthetic foundation of your brand!